Beste muziekvrienden,

Op vrijdag 29 oktober 2021 verschijnt op het bekende BOOTLEG RECORDS eindelijk (dank u, Corona) de vinyl LP "PENDULUM" op beperkte en genummerde oplage.

Dit album bevat 14 songs (12 eigen nummers en 2 covers) die in de voorbije 50 jaar door respectievelijk PENDULUM, PENDULUM II, TRANSIT en PENDULUM REUNION BAND werden opgenomen. En vormt zo een unieke staalkaart van de geschiedenis van onze legendarische "Vlaamse Byrds".

Het is tevens de gelegenheid om de 50ste verjaardag te gedenken van het uitbrengen van de single "It's a Beautiful Day".


Wie voor 20 oktober 2021 bestelt kan dit album aan de voordeelprijs van 20€ bekomen.

Nadien kost de LP onherroepelijk 23.50€. Geef dus als de bliksem per e-mail je naam door aan sergevanpendulum@hotmail.com of guidomommaerts@gmail.com en geniet zo van een korting van 11.75%. Na registratie ontvang je per e-mail de nodige instructies voor betaling en afhaling of evt verzending van dit kleinood.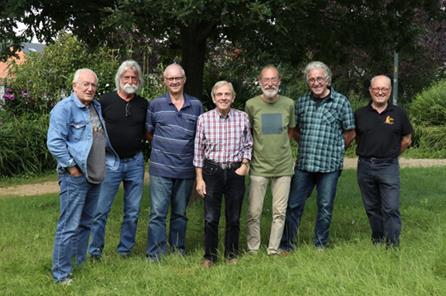 Het officiële release-concert is op vrijdag 29 oktober 2021 om 20.30u in GC De Linde, Kortenbachstraat 7, 1130 Haren (Brussel) en wordt ingericht door VZW Toogenblik.

Zie ook www.toogenblik.be

De reeks lente-optredens 2022 start op zaterdag 12 maart in het Abbey-hotel te Grimbergen ( uitverkocht ) waarna donderdag 17/ 3 in het Cultuurhuis van Bree en zondag 10 april in het ontmoetingscentrum De Schuur te Kasterlee.

De data van de ( door corona ) uitgestelde optredens in Asse, Leuven, Strombeek-Bever en wellicht ook Meise, 't Kantien-Sporthal Grimbergen en Hoeilaart volgen.


Pendulum Reunion Band's
10th Anniversary Mini-Tour
Concerts in 2022
Zondag 10 april :
Zaterdag 4 juni :
Zaterdag 11 juni :
Zaterdag 2 juli :
Zaterdag 6 oktober :
Concerts in 2019
Vrijdag 20 december :
Concerts in 2018
Donderdag 25 januari :
Zondag 8 april :
Vrijdag 8 juni :
Toogenblik organiseert jubileumconcert 10 jaar PRB in GC De Linde, Cortenbach-straat 7 te 1130 Haren, 20 uur. Voorprogramma : Martin Clan ( USA / B)
Zaterdag 23 juni :
CC De Kam, Wezembeek-Oppem. Om 16 u Mike Kiranne's BBQ. (inschrijving vooraf vereist) Om 20 u PRB in de concertzaal, org. Kam Klub, met support acts door Engelse ex-pats.
Zaterdag 28 juli :
Concerts in 2016

Vrijdag 8 januari :
Nieuwjaarsconcert door de Pendulum Reunion Band, voor de gemeente Machelen, laureaat Fairtrade 2015, in GC 't Kwadrant (rechtover de kerk van en te Diegem. Er worden bij de receptie met fairtrade-bubbels allerlei Fairtrade producten aangeboden. Gratis toegang, evenwel vooraf reserveren via www.machelen.be of aan het loket van de Dienst Vrije Tijd
( 02.254.12.01 ) (1)
Zaterdag 22 januari :
Benefit Concert for the Refugees, @ Toogenblik in Haren ( voormalig legendarische folkclub en jeugdhuis 't Sleutelgat ) Inkom gratis, graag € 10 voor "Serve of City". Support showcases by Arumbo, Daithi Rua, Andy & Phil, Gustica, Jef Fockaert, De Peet & Al Johns, Marc François, Hilde Frateur, Jan Huygen, Peter Ceulemans, Steelin' Delight, Lance Smallshaw, Youri Korsak and Wrong Direction.
Top of the bill : TEXPEN, a Texmachine ( trashcountry ) and Pendulum Reunion super Group, feat. Serge Demol, Michel De Smet & Jan Schoevaerts.
Zaerdag 5 maart :
Concert @ de Kam Klub, Cultureel centrum van Wezembeek-Oppem, Beekstraat 172, feat. The Pendulum Reunion Band and five Britisch support artists. Org. Cam Club, (UK expats).
"They're back ! The great Belgian country-rock band "Pendulum" hit the charts in the Seventies with their singels ( remember them?) "It's a beautiful day" and "Early morning rain ". In '76 they had a radio-hit with "Come on sunshine" and they released the Transit album "First ride" in '78. Their concerts (twice 60 minutes shows) include also great covers of fellow artists such as The Byrds, The Eagles, the Everly Brothers, Merle Haggard and others. Join us on a heart warming journey of nostalgia through a great period of musical historiy with the musical virtuosity of the Pendulum Reunion Band. Suggested contribution € 10 at the door, € 5 for children and students. Further info www.kamklub.be
Zondag 26 juni :
JAMMMMMMMMMMMMMM @ GC De Melkerij, Zemst, ( vanaf 14u) feat. Serge Demol & Friends, with 'Pendulum : back to the roots' repertoire.
Zaterdag 9 juli :
Donderdag 15 dec :
2016 : Pendulum Reunion Band, in de feestzaal van het Fenikshof, Abdijstraat, Grimbergen. Optreden voorzien vanaf 16 uur, twee sets van 40 min., ter gelegenheid van het Jubileum van 20 jaar NEOS- Grimbergen. Mits uitnodiging.
Voorjaar 2017 :
Zaterdag 14 januari Pendulum Reunion Band te Wolvertem- Imde, 16 uur.

Vrijdag 27 januari. Nieuwjaarsconcert in Toogenblik, Haren-Brussel, 20 uur.

Zondag 9 april : PRB voor de Heemkring Kasterlee, Heemerf, Lichtaart.

Zaterdag 1 juli : Pendulum Reunion Band in Zeilclub Verbrande Brug Grimbergen, 20 uur.

The Pendulum Reunion Band :
Serge Demol : lead vocals, harmonica
Anthony Aussems : accoustic guitar, vocals
Marcel Schraepen : vocals and guitars
Michel De Smet : fiddle, mandolin, keyboards
Simon Shrimpton-Smith : guitars, vocals
Jan Schoevaerts : drums & percussion
Marc Loos : bass & double bass

(1) Het Liveconcert in Diegem is opgenomen door Ring TV (Brabant), met interviews van Serge Demol en Jan Schoevaerts ( door Helen Bogaerts) en flash-backs naar Pendulum 1, 2 en Transit.


(2) Foto : gastoptreden voor de encores : Sofie Schoevaerts en Serge Demol (vocals) en Michel Desmet (fiddle) in "If I needed you" ( lyrics & Music : Townes Van Zandt)

(3) First videoclip of Pendulum band

Recent reviews :

Concertmonkey.be/reports/pendulum-reunion-band-toogenblik-haren-le-24-avril-2015.

Libertadfeesten 2013 te Leuven Muntstraat 28

Elk jaar speelt de Pendulum Reunion Band een vijftal reünieconcerten en vroeg of laat moest dat uiteraard ook in de Libertad gebeuren. Ook original PENDULUM –lid Michel Verbelen was er weer even bij (verving Marc Loos) aan de bas. Twee maal een uur vol folkrock en country, van de Everly Brothers over The Byrds tot en met de laatste singel van The Eagles De groep onderneemt een korte zomertoer 2013 en de Reunion band is 1 februari 2014 opnieuw te gast in Diegem voor haar 5jarig bestaan.


Vlnr : Jan, Simon, Marc, Marcel, Serge, Anthony & Michel ( Diegem 1 februari. 2014 )

PRB Pendulum Reunion Band - Toogenblik- Haren - 27 januari 2017 – Concert Monkey
Photo reportage par Pierrot Destrebecq

Artist: Pendulum Reunion Band
Date: 27/01/2017
Venue: Toogenblik
Place: Haren

Concert de Pendulum Reunion Band au Toogenblik le 27 janvier 2017.

Chronique et reportage photos Margaret et Pierrot Destrebecq-King. Pendulum, ce band des années 70 a, sous l'impulsion de Serge Demol, décidé de se reformer en mai 2008 pour un concert « unique » sous la dénomination de «Pendulum Reunion Band », Ce qui laissait à supposer qu'après ce concert-là, chacun repartirait de son côté.

Mais la passion de la musique en a décidé autrement et les 7 musiciens ont continué à se voir, à répéter ensemble et à produire des concerts dont celui de ce soir. Présenté par Guido Mommaerts, le Band monte sur une scène surchargée d'instruments.
Chacun doit trouver sa place, d'abord Jan Schoevaerts qui doit se glisser derrière ses fûts, puis Marc Loos va fermer le passage pour rejoindre sa double bass qui heureusement a laissé sa caisse au vestiaire, faute de quoi il ne passait plus.
Occupe aussi l'arrière de la scène, le sympathique et humoristique guitariste et chanteur d'Outre-Manche Simon Shrimpton-Smith. Viennent enfin les quatre membres qui vont occuper l'avant de la scène, à savoir le guitariste chanteur Anthony Aussems, l'un des membres d'origine du Pendulum de 1972, Marcel Schraepen, guitariste et chanteur, Michel De Smet, le magicien de l'archet avec son fiddle et ses bottes rouges (these boots are made for singing, not walking). Et pour fermer cette boîte à musique, la clef d'or en la personne de Serge Demol, Le Chanteur en titre de Pendulum, membre fondateur et moteur des diverses reformations. Mise en voix avec « Garden Party », un titre de Ricky Nelson de 1972 qui nous plonge tout à coup et pour la deuxième fois dans l'obscurité. Est-ce un signe que la suite va faire péter les plombs à l'assistance ? Suivi de « Mama Tried » (Merle Haggard 1968) pour nous rappeler que hormis quelques compositions personnelles, le groupe est aussi un cover band amou-reux des Byrds, des Eagles, de CSN, de la musique Country, et surtout des belles harmonies vocales qu'ils vont reproduire tout au long de leurs deux sets acous-tiques. "Teach Your Children" nous donne des frissons tout comme "Crying In The Rain" des Everly Brothers. Arrive ensuite "It's A Beautiful Day", LE hit de Pendulum composé par Serge, tube qui n'a pas pris une ride et met de la joie au cœur du public qui soit dit en passant n'est plus tout jeune et doit avoir entendu ce morceau dans le temps sur « la TSF » ou dans « son transistor ». Nous repartons planer avec les Aigles pour « Peaceful Easy Feeling » puis retrouvons les sonorités country de Bob Dylan et des Byrds, avec un tribute to Merle Hoggard décédé l'an passé et pour terminer ce premier set, un titre de Hal Ketchum de 1991 composé par Pat Alger & Hank DeVito, « Small Town Saturday Night ». Le temps d'aller se rincer les mains pour les Boys et se repoudrer le nez pour les Girls, n'oublions quand même pas que Toogenblik est aussi un peu un débit de boisson même si on y débite surtout des décibels, et voilà le Rubics Cube qui se remet en place, chacun coincé sur son décimètre carré et qui pour bien caller tout ça propose un « All Shook Up » d'enfer. John Parr est revisité avec « Restless Heart » et puis on s'envoie un « Tequila Sunrise » histoire de se mettre en condition pour déguster un « Blues Stay Away From Me » des Delmore Brothers et un CSN absolument sans espoir. Après nous avoir demandé de ne pas les laisser tomber, une hommage à Gerry Rafferty et Stealers Wheel, ils nous commandent deux bouteilles de vin supplémentaires, à l'origine chanté par Emmylou Harris, confirmant ensuite que le « Country Is In My Genes » de The Broken Circle Breakdown. Un petit coucou à Steve Earle avec « Galway Girl » et nous reprenons notre envol avec les Aigles pour les deux derniers morceaux de ce set. Bon ce n'est pas tout ça, le public en veut encore et ces gaillards aiment ce qu'ils font alors ils vont nous gratifier, tenez-vous bien, de 5 titres en rappel mettant en lumière les artistes qu'ils aiment dont Townes Van Zandt avec « If I Needed You », Gene Pitney avec « Hello Mary Lou », les Everly Brothers avec "When Will I Be Loved", Linda Ronstadt avec "It's So Easy" et… Pendulum pour 'It's A Beautiful Day" et vraiment nous avons passé un très bon moment en leur compagnie.

Set list : Part one Garden Party Mama Tried Teach Your Children Crying In The Rain It's A Beautiful Day Peaceful Easy Feeling Mr Tambourine Man Ballad Of Easy Rider Wasn't Born To Follow White Line Fever Small Town Saturday Night Part Two All Shook Up Restless Heart Tequila Sunrise Blues Stay Away From Me Helplessly Hoping Don't Give Up On Me 2 More Bottles Of Wine Country In My Genes Galway Girl How Long Take It Easy Encore If I Needed You Hello Marylou When Will I Be Loved It's So Easy It's A Beautiful Day
Pendulum Reunion Band - Toogenblik- Haren - 27 januari 2017
http://www.toogenblik.be/
Hoes van de nieuwe Vinyl LP